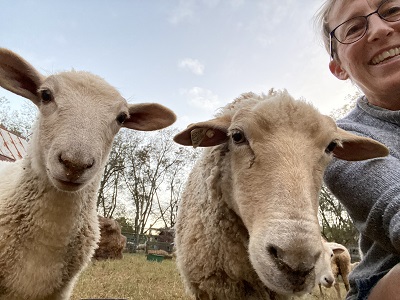 What does it take to pursue a career in science? We asked Dr. Joanne Maki, a Boehringer Ingelheim veterinarian and scientist based in Athens, Ga. Here's what she shared with us - in her own words:
When I think of STEM (science, technology, engineering, and mathematics), one key thing that comes to mind is that this field allows you to think big. There are many opportunities: You can have a global career, get connected with people around the world, follow your passion – and you can make a positive difference in the world. So what advice would I give someone who is just starting out? It really boils down to three things:
Think wide
Don't just go in with one single idea in mind, consider other options. Growing up, I did know I wanted to become a veterinarian. I knew it was going to be a difficult career choice, but I decided early on that animals are my passion. First, I wanted to treat cats and dogs, and when my horse, Ginger, got injured, I thought that being a practicing equine vet was my calling. That's what I worked towards in college. But then, I took a summer job as a field tech, collecting samples and working on equine infectious anemia. Some of the work we did was in the lab, and that really hit home with me. So after I graduated, I went straight into veterinary research – and found my first job developing rabies vaccines. 
If I hadn't taken a look left or right, I would have never found the path I ended up taking. And my career today really is the answer to everything I wanted to do growing up. Working on rabies vaccines, I get to protect dogs, cats, horses, wildlife… So whenever there's the chance of doing something new and you feel the urge to try it out, you need to just be flexible and do it. What you learn there about your field, about yourself, may really surprise you. So think wide. 
Start networking now
I wish that when starting out, someone had told me, "If you want to be a research veterinarian, go find a research veterinarian and learn about what they do." I wasn't brave enough to try, I didn't think they'd want to talk to me. But really, they do. Anybody who is in science loves to talk to people who are into science. So talk to them. Ask them. "What do you do? How do you like your job? What are your frustrations?" That will help you find out what it really is you want to be doing. And if in that conversation you realize it's not for you, find somebody else to talk to, and start again. 
Find a hobby
This tip may surprise you but hear me out. I've gotten into raising a special breed of sheep called gulf coast natives. I picked it up as a hobby about 15 years ago. The animals are a lot of fun and I met many friends through working with sheep. You wouldn't think about it, but finding a hobby is important. Here's why: When you're not so focused on your job, when you're enjoying yourself and are having some downtime, your mind is still at work on the questions you're trying to ask. And while you relax, you can come up with ideas that you never thought you would come up with. You'll also meet new people that will give you fresh ideas. So think about your hobby just as much as you would think about what you want to do professionally. 
Last but not least, I have one final thought for you: You're getting into STEM because you're smart. You're getting into STEM because you know it's something important. But you also need to know – and I'm sure you do know – it's going to be a challenge and it's going to take a lot of dedication. Having said that, it's worth it. And if you find what you're passionate about, you'll do great!