Boehringer Ingelheim Introduces NexGard® COMBO (esafoxolaner, eprinomectin, and praziquantel topical solution): The First-and-Only Feline Broad-Spectrum Parasite Protection that Treats Tapeworms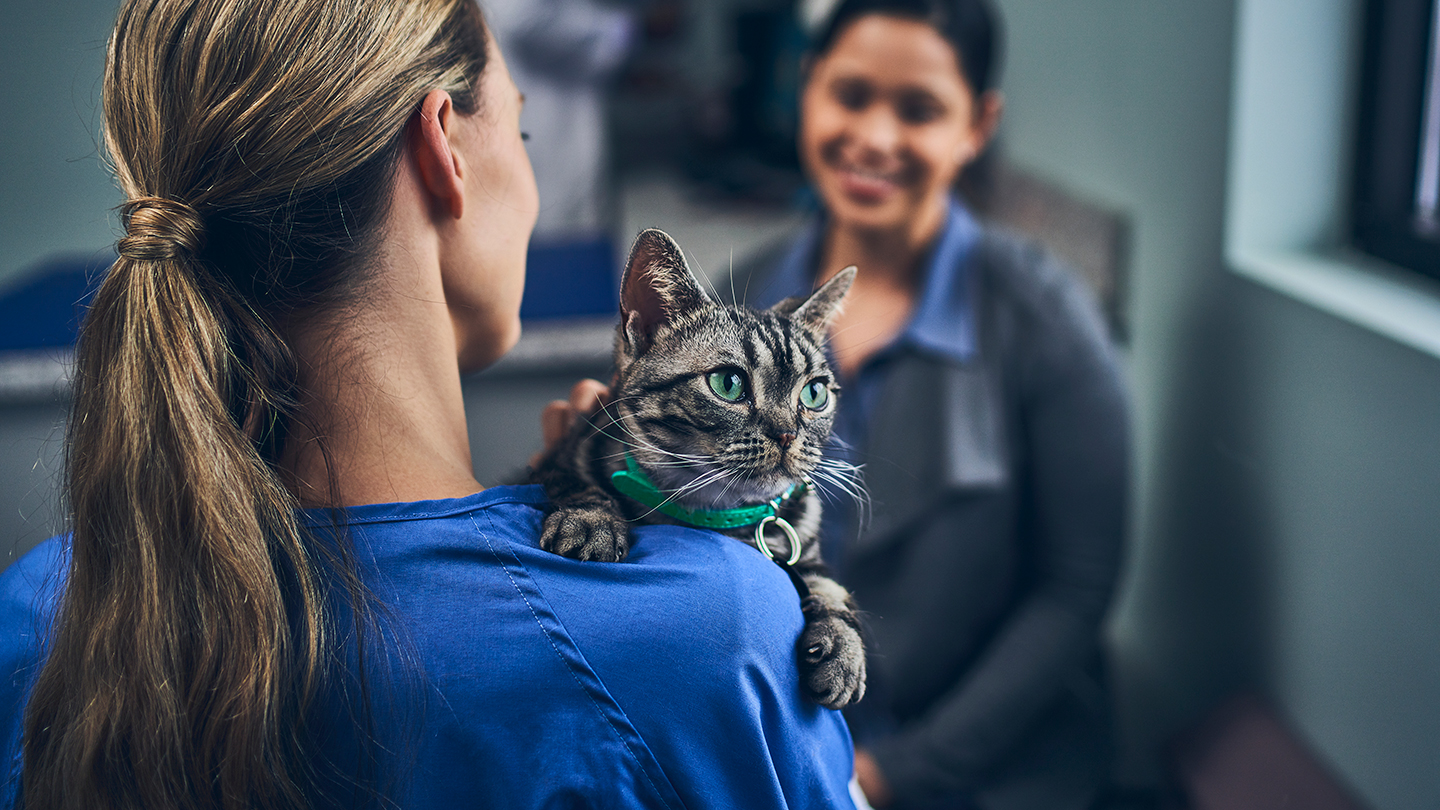 The maker of NexGard® (afoxolaner), the #1 dog-preferred oral flea and tick protection1, introduces the latest addition to its feline portfolio 

—

NexGard® COMBO, new broad spectrum parasite protection specially formulated for feline patients
NexGard® COMBO topical solution is the only broad-spectrum protection for felines that covers fleas, ticks, roundworms, hookworms, heartworm disease and tapeworms

One-and-done, easy-to-apply monthly topical application helps make compliance easy for feline pet owners


 
Duluth, Ga., April 24, 2023 – Boehringer Ingelheim today announced that the U.S. Food and Drug Administration (FDA) has approved the newest addition to its feline portfolio — NexGard® COMBO (esafoxolaner, eprinomectin, and praziquantel topical solution) — as the first-and-only feline broad-spectrum protection against fleas, ticks, roundworms, hookworms, heartworm disease and tapeworms. NexGard® COMBO is a one-and-done, monthly topical solution, specially formulated for feline patients, that helps make compliance easy.
"NexGard® COMBO is the one veterinarians and cat owners will want because it offers easy and convenient, first-of-its-kind broad spectrum parasite protection for fleas, ticks, heartworm disease and intestinal parasites, including tapeworms," said Whit Cothern, DVM, Executive Director of Veterinary Professional Services at Boehringer Ingelheim Animal Health. "We're dedicated to helping protect pets from parasitic disease, and NexGard® COMBO for cats advances our mission to create a future where no pets suffer from parasitic infections."
Multiple clinical studies showed that NexGard® COMBO:

Advancing Healthcare for Feline Patients
The NexGard® COMBO formulation is the latest example of Boehringer Ingelheim building on its history of leadership in animal health to provide advanced, preventive animal healthcare and develop smart and effective solutions for pets.
Cats face an ever-present risk from internal and external parasites.4 By combining three active ingredients in a one-and-done monthly application, NexGard® COMBO makes it easy for cat owners to protect their pets. To further enable compliance, veterinarians can prescribe 3-dose and 6-dose presentations to best support the needs of their feline patients.
Each application of NexGard® COMBO contains esafoxolaner (12 mg per mL), which was specially formulated for cats to kill fleas and ticks.
NexGard® COMBO also contains eprinomectin (4 mg per mL) to prevent heartworm disease and treat and control roundworms and hookworms, and praziquantel (83 mg per mL) for the treatment and control of tapeworms.
Together, NexGard® COMBO brings monthly one-and-done, broad-spectrum protection against internal and external parasites — that includes tapeworms — to cats for the first time.
NexGard® COMBO will be available for veterinary clinics to order in May.
Important Safety Information
NexGard®

COMBO is for topical use only in cats. The most frequently reported adverse reactions include vomiting, application site reactions, and anorexia. If ingested, hypersalivation may occur.

Avoid direct contact with application site for 4 hours or until visibly dry.

Esafoxolaner is a member of the isoxazoline class. This class has been associated with neurologic adverse reactions including tremors, ataxia, and seizures in cats with or without a history of seizures. Use with caution in cats with a history of seizures or neurologic disorders.

The safety of NexGard® COMBO has not been tested in breeding, pregnant, or lactating cats.

NexGard®

COMBO is for use in cats 8 weeks of age and older, weighing 1.8 pounds or more.

For heartworm disease prevention, give once monthly for at least 3 months after last exposure to mosquitoes.

For more information, click

here

for full prescribing information or visit NexGardCOMBOClinic.com.

Important Safety Information
NexGard® (afoxolaner) is for use in dogs only. The most frequently reported adverse reactions include vomiting, pruritus, lethargy, diarrhea, and lack of appetite. The safe use of NexGard in pregnant, breeding, or lactating dogs has not been evaluated. Use with caution in dogs with a history of seizures or neurologic disorders. For more information, click here full prescribing information or visit NexGardClinic.com.
Boehringer Ingelheim Animal Health
Boehringer Ingelheim Animal Health is working on first-in-class innovation for the prediction, prevention, and treatment of diseases in animals. For veterinarians, pet owners, farmers, and governments in more than 150 countries, we offer a large and innovative portfolio of products and services to improve the health and well-being of companion animals and livestock. As a global leader in the animal health industry and as part of family-owned Boehringer Ingelheim, we take a long-term perspective. The lives of animals and humans are interconnected in deep and complex ways. We know that when animals are healthy, humans are healthier too. By using the synergies between our Animal Health and Human Pharma businesses and by delivering value through innovation, we enhance the health and well-being of both.  
For more information visit www.boehringer-ingelheim.com/animal-health.
Boehringer Ingelheim
Boehringer Ingelheim is working on breakthrough therapies that transform lives, today and for generations to come. As a leading research-driven biopharmaceutical company, the company creates value through innovation in areas of high unmet medical need. Founded in 1885 and family-owned ever since, Boehringer Ingelheim takes a long-term perspective. More than 52,000 employees serve over 130 markets in the three business areas, Human Pharma, Animal Health, and Biopharmaceutical Contract Manufacturing. Learn more at www.boehringer-ingelheim.com.
Intended audiences:
This press release is issued from our Animal Health Headquarters in Duluth, Georgia, and is intended to provide information about our global business. Please be aware that information relating to the approval status and labels of approved products may vary from country to country, and a country-specific press release on this topic may have been issued in the countries where we do business.
# # #
Media Contact:
Brett Israel
Boehringer Ingelheim Animal Health
Director of PR and Communications, U.S. Pets
925-705-5966
brett.israel@boehringer-ingelheim.com
1 Data on file at Boehringer Ingelheim.
2 Freedom of Information Summary.  NADA 141-570, NexGard COMBO topical solution
3 Saleh MN, Sundstrom KD, Duncan KT, et al. Show us your ticks: a survey of ticks infesting dogs and cats across the USA. Parasit Vectors. 2019;12(595). doi:10.1186/s13071-019-3847-3.
4 Nagamori Y, et al. Retrospective survey of parasitisim identified in feces of client-owned cats in North America from 2007 through 2018. Vet Parasitol. 2020;277: 109008. Doi:10.1016/j.vetpar.2019.109008
NexGard® is a registered trademark and NexGard COMBO™ is a trademark of Boehringer Ingelheim Animal Health France, used under license. ©2023 Boehringer Ingelheim Animal Health USA Inc., Duluth, GA. All rights reserved. US-PET-0313-2023