Boehringer Ingelheim Recognizes Cornell Veterinary Student and Researcher From Virginia-Maryland Regional College of Veterinary Medicine at 2023 Veterinary Scholars Symposium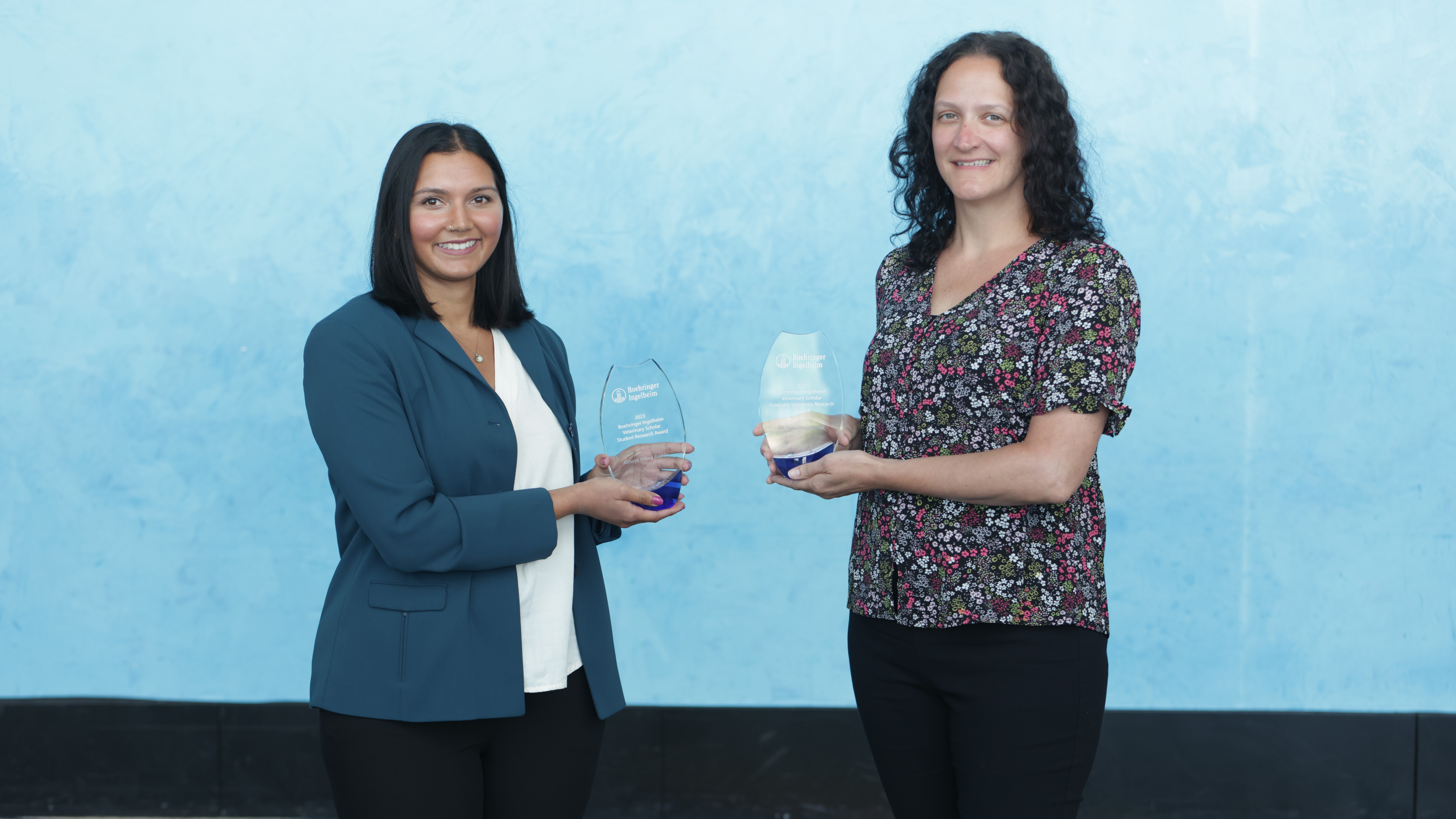 34th Annual Symposium Features More than 550 Poster Presentations from Veterinary Scholars
 
DULUTH, GA (AUGUST 21, 2023) – At the 34th annual Veterinary Scholars Symposium conducted in early August in San Juan, Puerto Rico, more than 550 veterinary students from the US, Canada, France, Germany, The Netherlands, Japan and The Philippines presented research they conducted in academic and governmental labs this summer. One graduate veterinary researcher and one veterinary student also were recognized at the Veterinary Scholars Symposium with awards in recognition of their early contributions to research advancing animal and human health.
Anna M. Hassebroek, DVM, MPH, received the 2023 Boehringer Ingelheim Veterinary Research Award for Graduate Veterinarians, which recognizes graduate veterinarians who have completed or will soon complete a Ph.D. program or are in their final years of residency training. Dr. Hassebroek is an anatomic pathology resident and Ph.D. candidate at the Virginia-Maryland College of Veterinary Medicine. After graduating from the University of Iowa with a master's degree in Public Health, Dr. Hassebroek worked as a biostatistician for nearly a decade before pursuing her doctorate in veterinary medicine at Purdue University. Her research interests include pathogenesis of emerging zoonotic viruses and vaccine development. Dr. Hassebroek's main Ph.D. work focused on producing and evaluating a virus-like particle-based vaccine against SARS-CoV-2 and exploring vaccine development platforms for future epitope-based vaccines.
Kimaya Bakhle, from Cornell University's College of Veterinary Medicine, received the 2023 Boehringer Ingelheim Veterinary Research Award for Veterinary Students. Bakhle is a second year DVM-Ph.D. student at the Cornell University College of Veterinary Medicine. Originally from the Cleveland, Ohio area, Bakhle attended Purdue University for her undergraduate studies, where she studied biochemistry. After graduating, she spent a year doing research in the Purdue University College of Veterinary Medicine, studying alterations to the blood-brain barrier during formation of brain metastases and drug-metabolizing enzyme activity in dogs with bladder cancer. These experiences led her to the combined DVM-Ph.D. program at Cornell, where she has completed her first year of veterinary school and her three Ph.D. laboratory rotations. She spent her first rotation identifying potential microRNA biomarkers of breast cancer using mammary stem and progenitor cells from six species. In the future, Bakhle hopes to use her background in veterinary medicine and cancer biology research to improve outcomes for animals and humans with cancer.
The annual Veterinary Scholars Symposium is the capstone event for hundreds of veterinary students participating in the Veterinary Scholars Program.
Mentored this summer by leading researchers from across academia, the US Department of Agriculture (USDA) and National Institutes of Health, the students conducted original research, relevant to both animal and human health, in such fields of study as emerging infectious diseases, toxicology, oncology and chronic diseases as well as advances in conservation and sustainable agriculture. This longstanding collaboration between public and private organizations, academia and government agencies provides veterinary students hands-on research experience in the laboratory and field, and exposes them to potential careers in biomedical research.
The Veterinary Scholars Program participants summarize their research findings and work over the course of the summer on a scientific poster, which they present to leading biomedical researchers, industry experts, public health officials  as well as other veterinary students at the Veterinary Scholars Symposium.
"These students will soon be on the front lines of monitoring and protecting animals and humans from tomorrow's emerging diseases and increasing the efficiency and sustainability of our livestock industry, as well as increasing the lifespan and quality of life for pets," said Caroline Belmont, head of US Animal Health Innovation for Boehringer Ingelheim. "That is why we are continuing to invest in their growth, to offer hands-on learning opportunities such as the Veterinary Scholars Program, so that they can gain the experience and perspective needed to spark innovation and practical solutions to future societal needs."
The Boehringer Ingelheim Veterinary Scholars Program was established 34 years ago to introduce veterinary medical students to biomedical research. Each scholar is assigned a mentor and laboratory and conducts a hypothesis-driven research project. The research project is typically conducted over a 10-12-week period during the summer, with students presenting their work at the conclusion. Nearly 6,000 students have received stipends from Boehringer Ingelheim to conduct research since the program started. More information is available at http://veterinaryscholars.boehringer-ingelheim.com/.
Boehringer Ingelheim Animal Health
Boehringer Ingelheim Animal Health is working on first-in-class innovation for the prediction, prevention, and treatment of diseases in animals. For veterinarians, pet owners, farmers, and governments in more than 150 countries, we offer a large and innovative portfolio of products and services to improve the health and well-being of companion animals and livestock. As a global leader in the animal health industry and as part of family-owned Boehringer Ingelheim, we take a long-term perspective. The lives of animals and humans are interconnected in deep and complex ways. We know that when animals are healthy, humans are healthier too. By using the synergies between our Animal Health and Human Pharma businesses and by delivering value through innovation, we enhance the health and well-being of both. For more information visit www.boehringer-ingelheim.com/animal-health.
Boehringer Ingelheim
Boehringer Ingelheim is working on breakthrough therapies that transform lives, today and for generations to come. As a leading research-driven biopharmaceutical company, the company creates value through innovation in areas of high unmet medical need. Founded in 1885 and family-owned ever since, Boehringer Ingelheim takes a long-term perspective. More than 52,000 employees serve over 130 markets in the three business areas, Human Pharma, Animal Health, and Biopharmaceutical Contract Manufacturing. Learn more at www.boehringer-ingelheim.com.