Bovikalc® An oral calcium supplement for freshening
dairy cows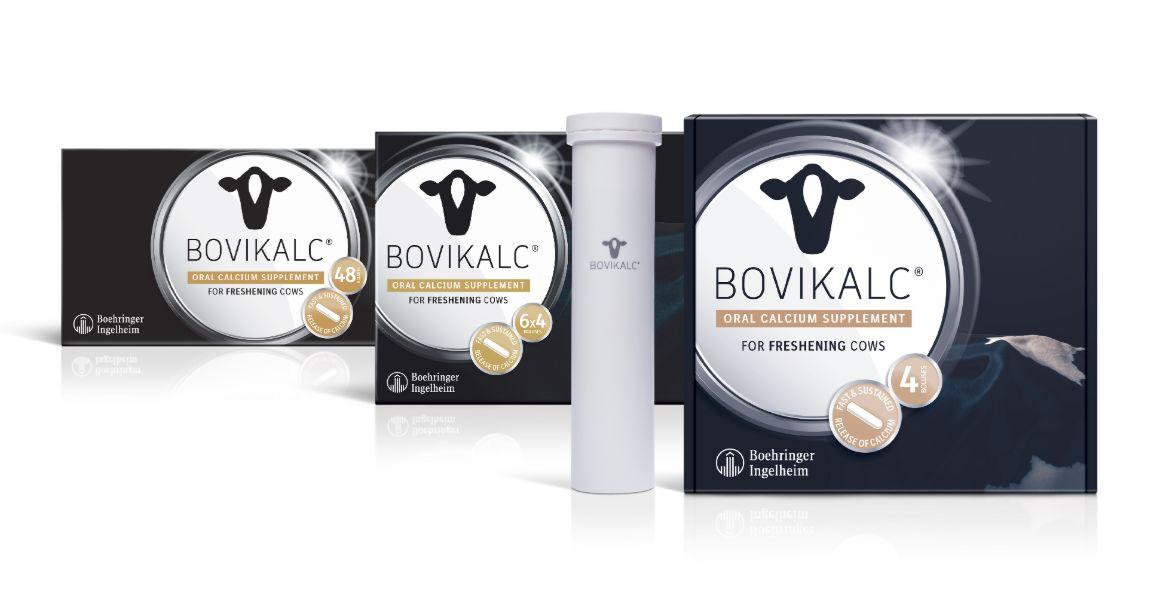 Details
BOVIKALC oral calcium boluses have a unique formulation that provides fast and extended support of blood calcium levels in freshening dairy cows:
 
Provides both quick and sustained calcium supplementation that supports blood serum calcium levels at a time when calcium is in great demand.

The specially-designed BOVIKALC bolus helps ensure a safe usage and better calcium availability than some imitator boluses.1

Features & Benefits
Provides calcium to fresh cows when they need it most.
Immediately after calving, cows experience high levels of calcium loss through milk and colostrum.1 Even when signs aren't visible, subclinical hypocalcemia can lead to a cascade of complications that could have been avoided.2   
Delivers two essential types of calcium: calcium chloride and calcium sulfate.
These two calcium ingredients have been proven best in helping cows get back to optimum performing levels, while the ingredients in some other brands fall short.1
A two-bolus protocol can make all the difference.
Administering an oral calcium supplement at calving, and again 12 to 24 hours later, can provide much-needed calcium supplementation. This is especially critical in second-lactation-or-greater cows, even if on a balanced transition diet.1,2
Not all boluses are created equal.
A BOVIKALC bolus dissolves completely just 30 minutes after reaching the rumen.3,4 Plus, its fat coating makes administration easier and safer for both workers and fresh cows.
Can boost an anionic-salt program.
Anionic salts can reduce cases of subclinical hypocalcemia, but not necessarily eliminate them. According to research, even herds on a quality anionic-salts program can still benefit from the oral calcium supplementation that BOVIKALC boluses deliver.1,5

Dosage & Administration
Give one BOVIKALC bolus immediately after calving and a second bolus 12 to 24 hours later.

The BOVIKALC bolus will disintegrate quickly in the rumen. The calcium chloride is available immediately, while the calcium sulfate will provide sustained release of calcium.

Resources

Safety
Safety Information
Bovikalc® boluses should not be used for initial treatment of milk fever.

Do not use BOVIKALC boluses for down cows or those showing signs of milk fever.

Do not use excessive force when giving the bolus to the cow.

Do not administer a bolus if broken.

Read and follow all label directions.


DCAD Diets and the Importance of Calcium
Along with giving calcium supplements after calving, experts recommend following a dietary cation-anion difference (DCAD) diet during the last three weeks of the dry period to help prevent calcium deficiency.
References
1Goff JP. The monitoring, prevention and treatment of milk fever and subclinical hypocalcemia in dairy cows. Vet J 2008;176(1):50–57.
2Kimura K, Reinhardt TA and Goff JP. Parturition and hypocalcemia blunt calcium signals in immune cells of dairy cattle. J Dairy Sci 2006;89(7):2588–2595.
3Data on file at Boehringer Ingelheim.
4Goff JP and Horst RL. Oral administration of cattle salts for treatment of hypocalcemia in cattle. J Dairy Sci 1993;76:101-108.
5Oetzel GR and Miller BE. Effect of oral calcium bolus supplementation on early-lactation health and milk yield in commercial dairy herds. J Dairy Sci 2012;95(12):7051–7065.
Trademarks
BOVIKALC® is a registered trademark of Boehringer Ingelheim Vetmedica GmbH, used under license. ©2023 Boehringer Ingelheim Animal Health USA Inc., Duluth, GA. All Rights Reserved. US-BOV-0405-2021-V2