TrichGuard® Vaccine proven to reduce the spread of trichomoniasis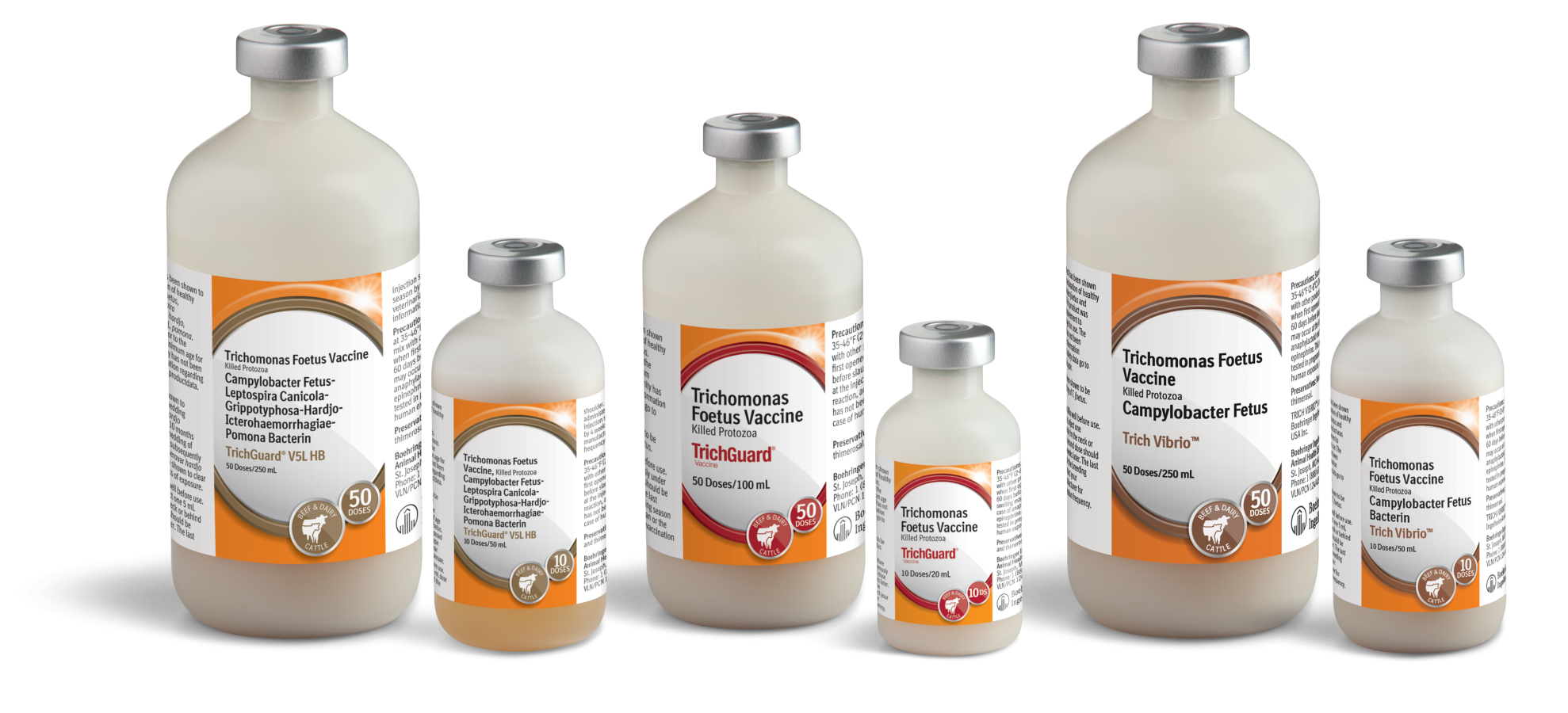 Details
TRICHGUARD is the first vaccine licensed to reduce shedding of Tritrichomonas foetus organisms, and thus helps protect against the spread of trichomoniasis in cattle, a venereal disease spread by bulls that can lead to lost pregnancies and open cows. By making TRICHGUARD a part of your vaccination regimen, you are reducing the impact of Tritrichomonas foetus.
Proven protection to reduce the spread of trichomoniasis

Available in combination with Campylobacter fetus (vibrio) and 5-way leptospirosis

Features & Benefits
TRICHGUARD helps reduce shedding of T. foetus organisms, thereby helping to reduce the spread of infection throughout the herd.

TRICHGUARD V5L HB aids in the reduction of shedding of T. foetus, plus it provides proven protection against disease caused by Campylobacter fetus (vibrio) and five serovars of Leptospira.

This product has also been shown to be effective against urinary shedding of L. borgpetersenii serovar hardjo (type hardjo-bovis) in heifers 10 months of age or older.
 
TRICHGUARD vaccine is effective in significantly increasing pregnancy and calving rates and reducing losses associated with T. foetus infections.1 Vaccination resulted in heifers achieving higher pregnancy rates when compared with sham vaccinated heifers.1
 
TRICH VIBRIO™ vaccine is effective against sexually transmitted diseases caused by Trichomonas foetus, Campylobacter fetus, as well as the shedding of Trichomonas foetus.

Dosage & Administration
2 ml (TRICHGUARD) or 5 ml (TRICHGUARD V5L HB, TRICH VIBRIO™) dose, administered subcutaneously

A second dose should be administered 2 to 4 weeks later. The last injection should precede the breeding season by 4 weeks.
Available sizes:

Resources

Safety
Precautions: Store out of direct sunlight at 35 - 46°F (2 - 8°C). Do not freeze. Do not mix with other products. Use entire contents when first opened. Do not vaccinate within 60 days before slaughter. Transient swelling may occur at injection site. In case of anaphylactoid reaction, administer epinephrine.


References
1Edmondson MA, Joiner KS, Spencer JA, et al. Impact of a killed Tritrichomonas foetus vaccine on clearance of the organism and subsequent fertility of heifers following experimental inoculation. Theriogenol 2017;90:245–251.
Trademarks
TRICHGUARD® is a registered trademark and TRICH VIBRO™ is a trademark of Boehringer Ingelheim Animal Health USA Inc. ©2023 Boehringer Ingelheim Animal Health USA Inc., Duluth, GA. All Rights Reserved. US-BOV-0483-2021-V2