Comparison of Post-Treatment Intervals
PTI is the time required to pass before the animal is eligible for additional antibiotic therapy. Every re-treatment for BRD not only puts additional stress on calves, it also reduces profit margins due to the extra antibiotic and labor costs. Study results comparing different post-treatment intervals (PTI) with Zactran® (gamithromycin) on health outcomes in BRD-infected cattle show that extending PTIs can improve treatment success. These extended PTIs decrease the number of cattle requiring re-treatment and increase the value of ZACTRAN antibiotic.1
Results from a Study Comparing Four PTIs —
3, 6, 9, 12 Days — Include:
Optimal PTIs were 6-day or 9-day, based on health outcomes
 
First-treatment success was significantly improved with a 9-day PTI, compared to a 3-day PTI
 
12-day PTI resulted in increased BRD case fatality risk and BRD outs
 
Results can be applied to native or dairy-beef cattle, since no significant interactions were detected for PTI treatment by cattle type

Published Studies Say It All:
Zactran® (gamithromycin) Outperforms the Competition and Delivers a Better Return on Investment.2
ZACTRAN® VS. DRAXXIN® (TULATHROMYCIN)
More than 1,500 dairy heifers in 11 different operations were allocated to one of three treatment groups: ZACTRAN, DRAXXIN or a negative control at weaning, with a 2-day post-metaphylactic interval (PMI). ZACTRAN antibiotic delivered superior performance.
Both ZACTRAN and DRAXXIN antibiotics improved calf health and improved average daily gain versus controls. However, ZACTRAN was superior to DRAXXIN for control of BRD, and BRD with comorbidity from otitis media (ear inflammation from BRD-causing pathogens).2

Zactran® (gamithromycin) Goes Head-to-Head with Excede® (ceftiofur crystalline free acid).
ZACTRAN® VS. EXCEDE®
Health and performance of 4- to 11-month-old calves in a multisite study were compared between metaphylaxis treatments of ZACTRAN and EXCEDE.
ZACTRAN® CALVES WERE HEAVIER ...
Total weight gain, average weight gain and average daily gain were significantly greater for ZACTRAN-treated calves than for those treated with EXCEDE.3
... AND REQUIRED FEWER PULLS
Calves treated with ZACTRAN antibiotic had a significantly lower probability of being pulled for BRD treatment than calves treated with EXCEDE antibiotic.3

A Better Metaphylaxis Treatment for Your Cattle. And Your Bottom Line
METAPHYLAXIS TREATMENTS TO CONTROL BRD
A 2019 study evaluated the differences between Zactran® (gamithromycin), Draxxin® (tulathromycin) and Zuprevo® (tildipirosin), when used as metaphylactic treatments to control BRD in calf-fed Holstein steers at feedlot arrival.
ZACTRAN®-TREATED CATTLE HEALTH AND CARCASS TRAIT RESULTS COMPARED TO DRAXXIN®:4
Higher first-treatment success – 58.9% vs. 46.9%; (P = 0.02)
Lower realizer rate (P = 0.01)
Greater number of marketable cattle with lowest total outs (realizers + mortalities) (P = 0.01)
Rib eye area was larger – 12.17 in.2 vs. 12.0 in.2; (P = 0.03)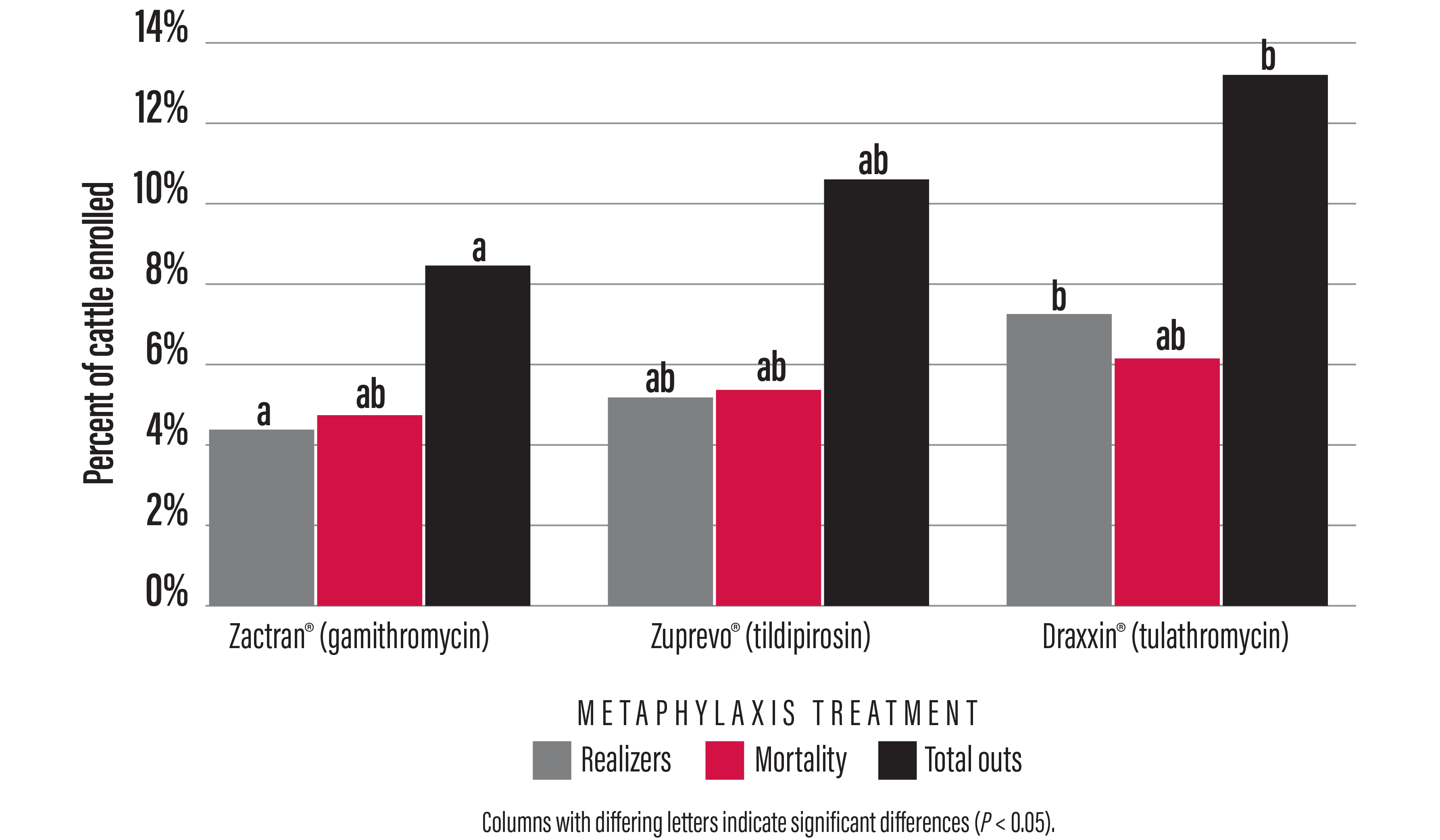 References
1 Theurer ME, Fox JT, Portillo TA, et al. Comparison of gamithromycin post-treatment intervals for beef cattle naturally affected with bovine respiratory disease. Bov Pract 2020;54(2):105–111.
2 Linhart RD, Brumbaugh GW. Control of bovine respiratory disease, with and without comorbidity by otitis media, in dairy heifers comparing gamithromycin, tulathromycin or no medication at a commercial development facility. J Dairy Sci 2019;102(6):5501–5510.
3 Amrine D, White B, Goehl D, et al. Comparisons of metaphylactic treatments of Zactran® (gamithromycin) vs. Excede® (ceftiofur crystalline free acid) in high-risk stocker calves. Int'l J Appl Res Vet Med 2014;12(3):221–228
4 Buchanan JW, Nilles AR., Raymond RC. Comparison of three injectable metaphylactic antimicrobial treatments administered at feedlot arrival for control of bovine respiratory disease in calf-fed Holstein steers. Bov Pract 2020;54(2):112–19.
Trademarks
ZACTRAN® is a registered trademark of Boehringer Ingelheim Animal Health France, used under license. All other trademarks are the property of their respective owner. ©2023 Boehringer Ingelheim Animal Health USA Inc., Duluth, GA. All Rights Reserved. US-BOV-0138-2021-B-V2