Why you should get your horse vaccinated
Infectious diseases are caused by pathogenic microorganisms, such as bacteria, viruses, parasites or fungi. These diseases can be spread, directly or indirectly, from animal to animal, from insects or environment to animal, or even at times, from animals to humans. Infectious disease can lead to poor performance, long-term health issues and even death.
Vaccination is one of the most efficient and effective methods of protecting horses against infectious disease. Vaccines work by stimulating the immune system by mimicking the exposure to the infectious organism without actually causing the disease. It's important to understand the duration of protection a vaccine provides. Some may only need to be administered annually, while others may require additional booster vaccinations throughout the year. In foals, the presence of maternal antibodies may require a different vaccination protocol in order to maximize protection.
It is also important to mention that some pathogens, such as equine influenza virus, change and adapt, so choosing the right vaccine containing relevant strains is essential to achieve desired immunity. Vaccines containing outdated strains are a risk to horses as they may provide sub-optimal protection. They may aid in reducing clinical signs of disease, yet those animals may shed as much live virus as non-vaccinated horses, thus potentially exposing other susceptible horses.
A "standard" vaccination protocol for all horses does not exist. Each individual situation requires risk-based evaluation by a veterinarian to determine contributing risk factors, such as anticipated exposure to the disease, age, breed, use, consequences of the disease, potential for adverse reactions to vaccines, and/or cost of immunization versus potential cost of clinical illness.
Vaccine Categories
Vaccines are split into two categories: core and risk-based vaccines.
Core vaccines for horses are those that protect from diseases that are endemic to a region, present in the environment and do not require horse to horse contact, those with potential public health significance, required by law, virulent/highly infectious, and/or those posing a risk of severe disease.
Tetanus
Eastern Equine Encephalomyelitis (EEE)
Western Equine Encephalomyelitis (WEE)
West Nile Virus (WNV)
Rabies
Risk-based vaccines for horses are recommended by a veterinarian after consideration of the risks and benefits for the horse based on certain factors such as the horse's history, the group of horses they live with, the horse's "use," potential contact with other horses, and/or the region the horse lives in.
Equine Influenza Virus (EIV)
Equine Herpesvirus 1 and 4 (EHV-1 & EHV-4)
Strangles
Potomac Horse Fever
Rotaviral Diarrhea
Pigeon Fever
Botulism
Leptospirosis
Equine Viral Arteritis
What to expect after your horse's vaccination
Because vaccines stimulate an immune response, it is not uncommon for some horses to experience mild, temporary side effects shortly after vaccination. These may include:
Low-grade fever
Decreased appetite
Fatigue or decreased energy
Tenderness at the injection site
While these are generally transient, usually resolving within 24-48 hours, they should be monitored closely. A veterinarian should be contacted if there are any questions.
Why Boehringer Ingelheim vaccines
Vetera® GoldXP

VETERA was the first vaccine in the US updated to contain both Florida sublineage clade 1 and clade 2 EIV (equine influenza virus), as recommended by the Expert Surveillance Panel (OIE) on equine Influenza and AAEP
The Industry's #1 vaccine1
The VETERA vaccine line features a wide range of progressive choices and contains the most comprehensive 1 mL vaccine (VETERA GoldXP+VEE) on the US market
The only vaccine with a demonstrated 6-month duration of immunity (DOI) against Florida clade 1 EIV
The only vaccine containing a North America E159TM West Nile strain with a demonstrated WNV DOI of at least 12 months.

Calvenza®-03 EIV/EHV was the first equine influenza vaccine updated to follow OIE guidelines to contain Florida sublineage clade 1 influenza strain
Strepvax® II: injectable strangles vaccine with no reconstitution needed and no fighting intranasal administration - Ease of Use
Equine Potomavac™: to protect horses from the deadly Potomac Horse Fever. Available monovalent or in combination with Rabies vaccine - protocol flexibility
Ultrafil® Purification Technology, used in VETERA and CALVENZA vaccines, is a unique filtration process that eliminates most of the extraneous, unnecessary proteins and/or cellular debris from the vaccines which may contribute to vaccine reactions.
VETERA and CALVENZA vaccines contain the Carbimmune® adjuvant system for enhanced initial and prolonged immune response. CARBIMMUNE contains no sensitizing material of animal origin to minimize reactivity.
VETERA and CALVENZA vaccines are backed by a year-long assurance program of up to $5000 to cover diagnostics and treatments in properly vaccinated horses
Boehringer Ingelheim Equine Health offers 24-hour consultative technical support and other value-added services from our unique Veterinary Technical Solutions (VeTS)Team. Contact at 1-888-637-4251.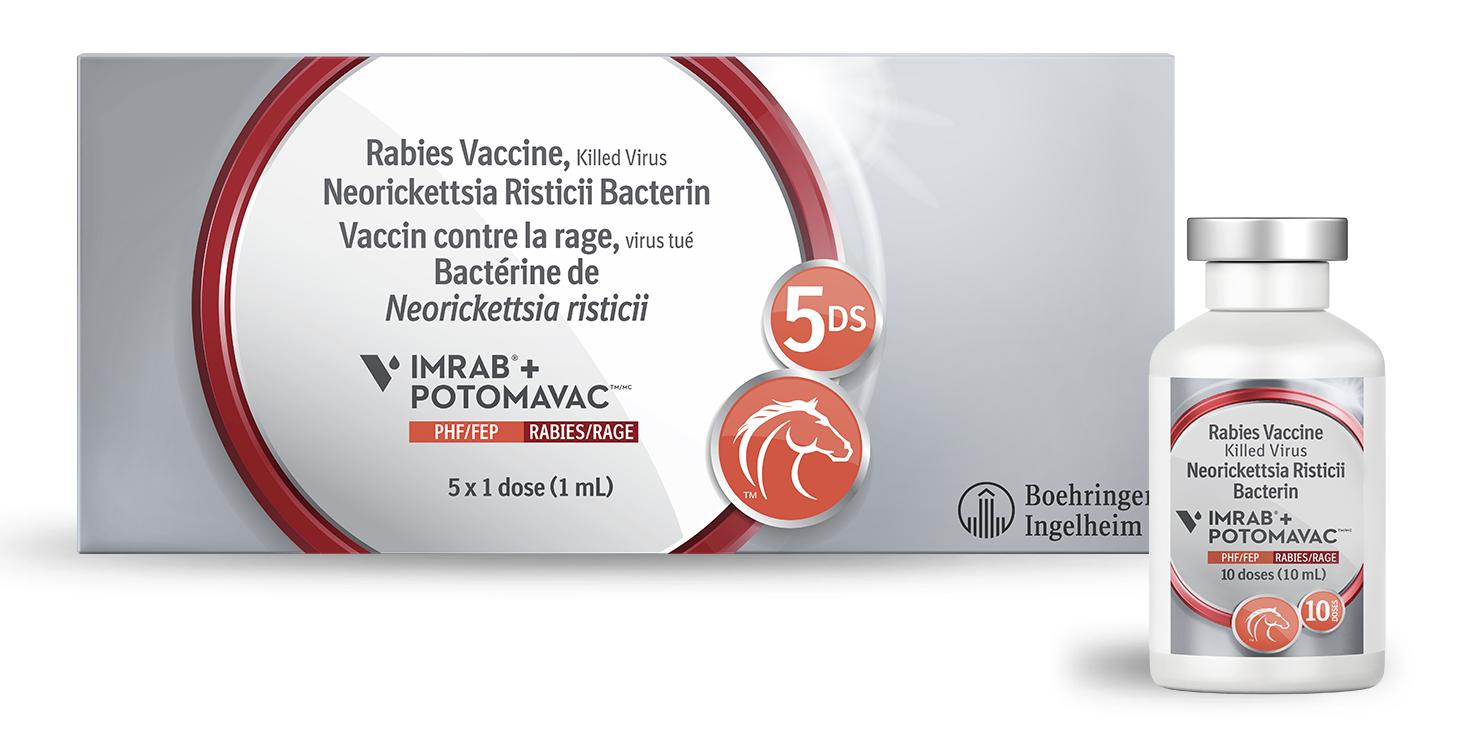 Imrab® + PotomavacTM/MC
Contains inactivated rabies virus combined with an inactivated suspension of Neorickettsia risticii for the vaccination of healthy horses against rabies virus and Potomac Horse Fever.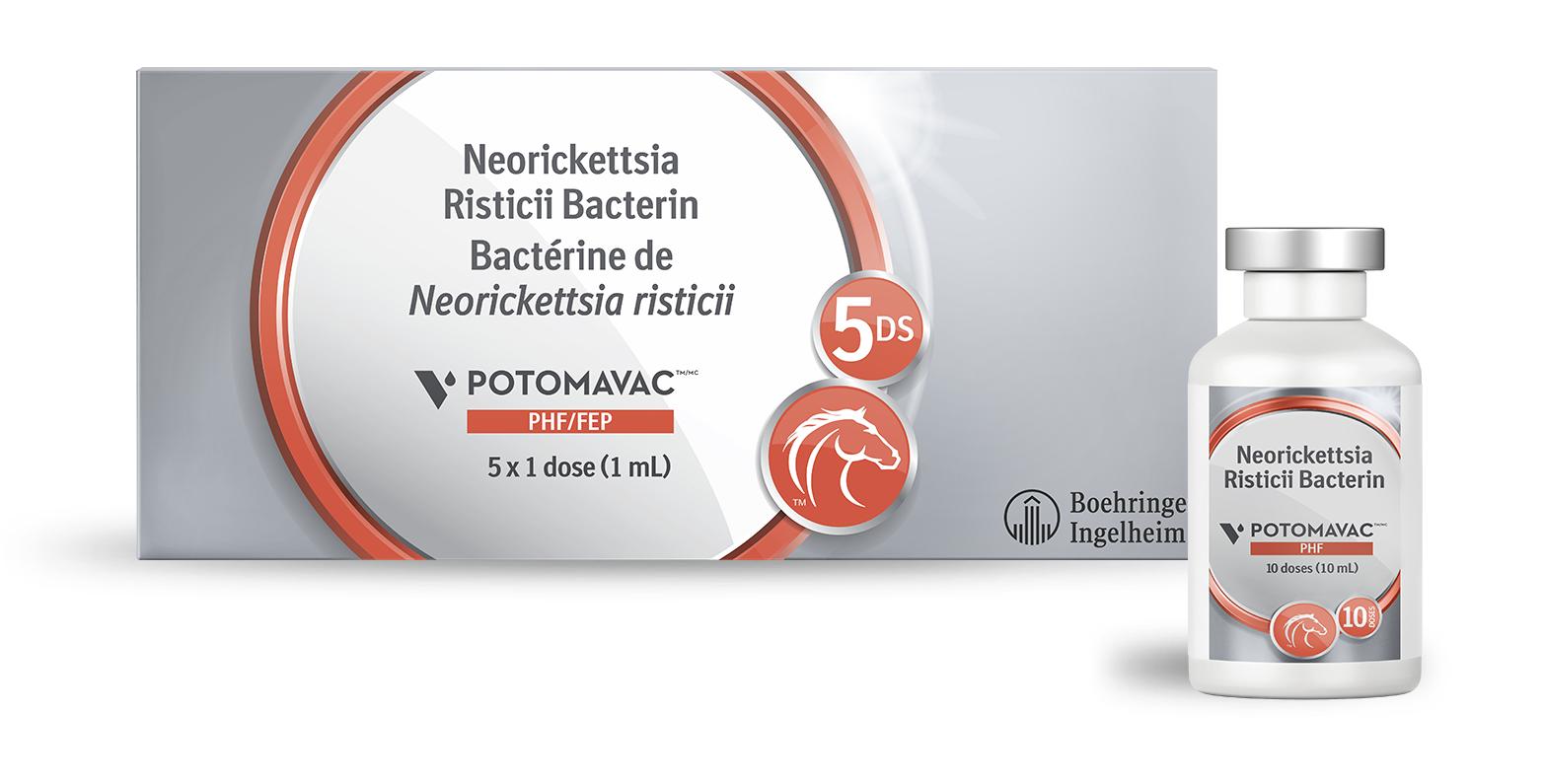 Equine PotomavacTM/MC 
An inactivated vaccine that has been shown to be effective for the vaccination of healthy horses 3 months of age or older against Potomac Horse Fever.
---
1. Ceesa vaccines data. 2021
*Boehringer Ingelheim Assured Vaccines covers respiratory form of EHV1/EHV4.
IMRAB®, STREPVAX®, ULTRAFIL®, CARBIMMUNE® are registered trademarks and POTOMAVACTM is a trademark of Boehringer Ingelheim Animal Health USA Inc.
CALVENZA® and VETERA® are registered trademarks of Boehringer Ingelheim Vetmedica GmbH, used under license.
©2021 Boehringer Ingelheim Animal Health USA Inc., Duluth, GA. All rights reserved. US-EQU-0103-2021