Calvenza®-03 EIV/EHV
Equine Rhinopneumonitis - Influenza Vaccine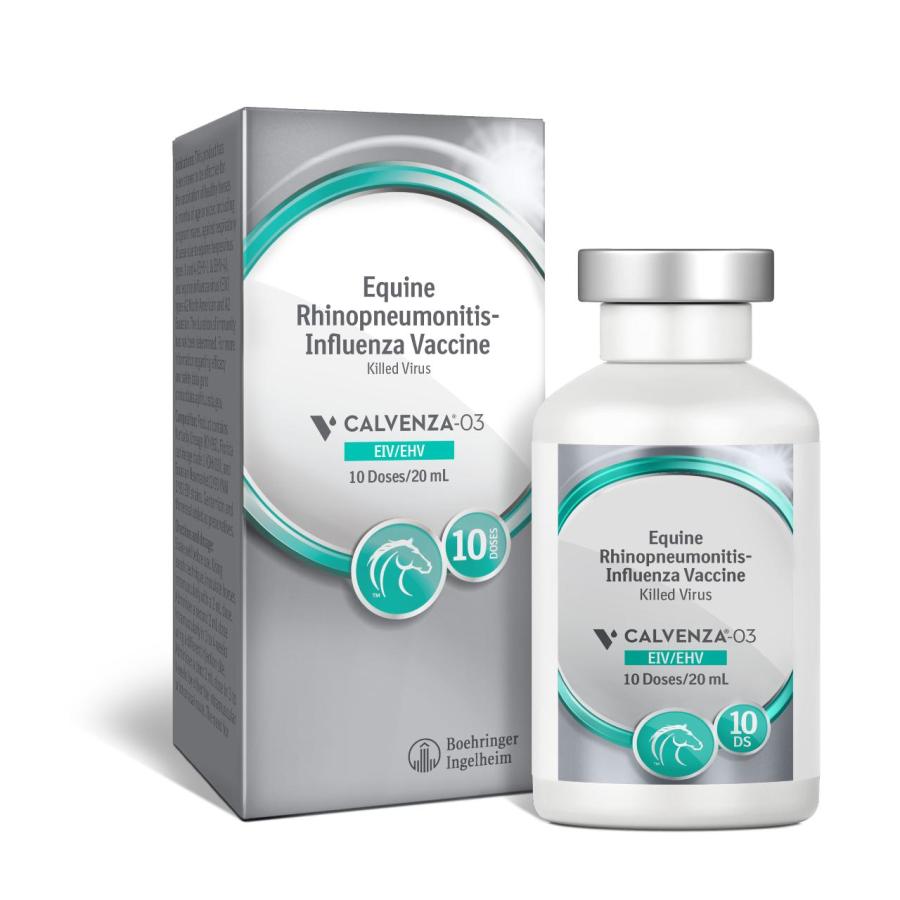 Details
CALVENZA®-03 EIV/EHV is an equine rhinopneumonitis and influenza, killed virus vaccine for healthy horses 6 months of age or older, including pregnant mares, against:

respiratory diseases due to equine herpesvirus types 1 and 4 (EHV-1 & EHV-4)

equine influenza virus (EIV) types A2 North American and A2 Eurasian

The first equine influenza vaccine updated to follow OIE guidelines to contain Florida sublineage clade 1

Flexible administration - intramuscular and intranasal with a pliable nasal applicator

Features & Benefits
Features

Incorporates Florida sublineage clade 1 (OH/03), Kentucky (KY/2/95), and Eurasian Newmarket/2/93 (NM/2/93) equine influenza strains

Unique EHV-1 equine respiratory origin isolate

Carbimmune® adjuvant formulation

Ultrafil® purification technology

Includes innovative pliable nasal applicator

Safe for use in foals as young as 6 months of age

Proven safe in pregnant mares
Benefits

Stimulates antibody production against EHV-1 & EHV-4

Carbimmune® adjuvant system allows a dual-phase antigen presentation to deliver both rapid and long-lasting immunity

Ultrafil® purification technology eliminates undesirable cellular components and extraneous protein to minimize the potential injection site reactions (such as heat, swelling, and inflammation)

Flexible dose administration using intramuscular or intranasal techniques

Pregnant mare may be safely vaccinated in any stage of gestation

Can initiate vaccination in foals as early as 6 months of age

Dosage & Administration
Shake the bottle well before using.  Using aseptic technique, inoculate horses intramuscularly (IM) with a 2mL dose.
Administer second 2mL dose IM in 3-4 weeks using a different injection site.
Administer a third 2mL dose in 3-4 weeks either by intramuscular or intranasal (IN) route.
The need for annual booster vaccinations has not been established for this product.; consultation with a veterinarian is recommended.

Resources

Safety Information
Precautions
Store at a temperature between 35° - 46°F (2° - 8°C)

Do not freeze

Do not vaccinate within 21 days of slaughter

Do not mix with other products

Use entire contents after opening
In case of anaphylactoid reaction, administer epinephrine. In case of human exposure, contact a physician.
Trademarks
CALVENZA® is a registered trademark of Boehringer Ingelheim Vetmedica GmbH, used under license. ULTRAFIL® and CARBIMMUNE® are registered trademarks of Boehringer Ingelheim Animal Health USA, Inc. ©2021 Boehringer Ingelheim Animal Health USA Inc., Duluth, GA. All rights reserved