FRONTLINE® Shield for Dogs


PRODUCT OVERVIEW
FRONTLINE® Shield for Dogs is a convenient monthly topical for treatment of fleas, ticks, and chewing lice, and repellency of mosquitos, ticks and stable flies. Effectively controls existing infestations and prevents reinfestations of fleas, ticks, and chewing lice. At 48 hours after application, FRONTLINE Shield starts killing fleas in 5 minutes and keeps working for a full 30 days.

CLINICAL BENEFITS
Fastest FRONTLINE® product, starts killing fleas in just 5 minutes*

Repels and kills ticks for an entire month, including Deer ticks, Brown Dog ticks, American Dog ticks, and Lone Star ticks

Kills ticks which may transmit Lyme disease, Rocky Mountain spotted fever, Anaplasmosis, Babesiosis, canine Ehrlichiosis, or cause tick paralysis

Repels mosquitoes that may transmit heartworm disease

Repels stable flies 

Kills fleas, flea eggs, and flea larvae for an entire month 

Prevents development of flea eggs and flea larvae, effectively breaking the flea life-cycle

Kills fleas which may cause flea allergy dermatitis and that may transmit bartonellosis, tularemia, and tapeworm

Aids in control of Sarcoptes mite infestations which may cause sarcoptic mange

Approved only for dogs and puppies 9 weeks or older and weighing at least 5 pounds

Waterproof protection for one month starting 24 hours after application. 

Backed by the SATISFACTION PLUS GUARANTEE™
*Starting 48 hours after treatment    

DOSAGE & ADMINISTRATION
How to Apply FRONTLINE® Shield for Dogs:
TO REMOVE Applicator: Prior to opening, separate one blister by tearing along perforation. 

TO OPEN, use scissors to cut along dotted line of single blister, then pull apart foil and remove the applicator. OR fold on line at corner, tear open at slit and remove the applicator.

HOLD Applicator Upright away from you and your dog's face, cut applicator tip with scissors to open. Do not get product in your dog's eyes or mouth.

APPLY the entire contents directly onto the dog's skin in 1 to 4 sites depending on your dog's weight. Refer to label for full instructions before
Dosage Chart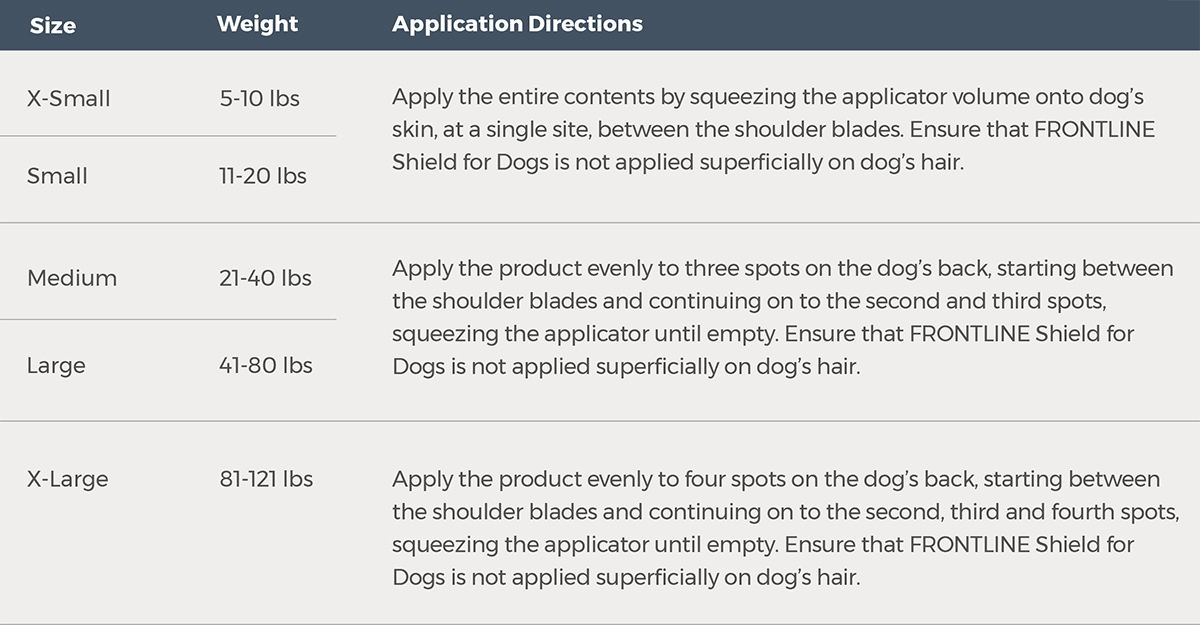 SAFETY
DO NOT USE ON CATS.
HUMAN WARNING: Causes substantial but temporary eye injury. Do not get in eyes or on clothing. Harmful if swallowed. Wash thoroughly with soap and water after handling and before eating, drinking, chewing gum, using tobacco or using the toilet. Remove and wash clothing that may have come in contact with the product before reuse.
WARNING: For external use on dogs ONLY. Do not use on animals other than dogs. Do not use on dogs under 9 weeks of age or weighing less than 5lbs. Individual sensitivities may occur after using ANY pesticide product. Dogs may experience some temporary irritation at the site of product application. If signs of sensitivity occur, bathe your dog with mild soap or shampoo and rinse with large amounts of water. If signs of sensitivity occur and persist, contact a veterinarian immediately. If your dog has an unusual reaction to the initial application, consult a veterinarian before repeating application. Certain medications can interact with pesticides. Consult a veterinarian before using on medicated, debilitated, aged, pregnant or nursing dogs, or dogs known to be sensitive to pesticide products. Consult a veterinarian for guidance on use against Sarcoptes mites. This product is not a substitute for a prescribed heartworm preventative. Call 1-888-637-4251, for assistance.
PHYSICAL OR CHEMICAL HAZARDS: Do not allow this product to come in contact with an oxidizing agent, as a hazardous chemical reaction may occur.
SIDE EFFECTS: Monitor your dog after application. Side effects, although very rare, may include signs of skin irritation such as redness, scratching, or other signs of discomfort. If these or other side effects occur, consult your veterinarian or call 1-888-637-4251. 
Trademarks
FRONTLINE® is a registered trademark of the Boehringer Ingelheim Group. SATISFACTION PLUS GUARANTEE™ is a trademark of Boehringer Ingelheim Animal Health USA Inc.