AVINEW® Making Its Way Across the U.S.


Details
AVINEW® is the only live attenuated Newcastle disease vaccine that replicates in both the respiratory and enteric tracts1 to provide a strong systemic immune response with minimal reactions.2
Key Advantages
Two sites of replication, the respiratory and enteric tracts2
Minimal to no post-vaccinal reactions3
Stimulates strong immune response to Newcastle disease virus4
Provides early protection1


Features & Benefits
Provides early protection1
Genetically stable and no reversion to virulence5
Effective protection against all pathotypes of Newcastle disease virus including velogenic strains3,6
Proven results in over twenty years and 200 billion doses used worldwide7

Dosage & Administration
Package in 5 x 10,000 dose ampules in frozen presentation
Each box of 100 chickens should receive approximately 7 ml of vaccine
Use vaccine for coarse spray administration
Take care to administer a full dose to each chicken
Allow chicks to dry; avoid chilling

Resources
E-Detailer
Image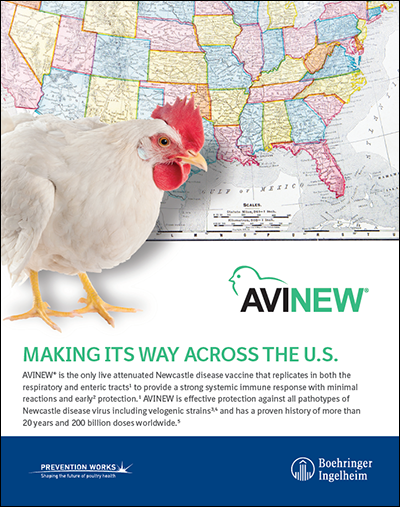 US-POU-0053-2020

Safety
Administer only as recommended
Use entire contents when first opened
Do not vaccinate within 21 days before slaughter
Contains penicillin and streptomycin sulfate which are added as bacteriostatic agents
Contains Amphotericin B as a fungistatic agent
Burn this container and all unused contents
References
1. Peroro, F. et all (2008). Avian Pathology, 37:237-245
2. Data on file at Boehringer Ingelheim.
3. Data on file at Boehringer Ingelheim
4. Beard, C.W. et all (1993), Avian Diseases, 37:22-225
5. Data on file at Boehringer Ingelheim.
6. Data on file at Boehringer Ingelheim.
7. Data on file at Boehringer Ingelheim.
Trademarks
AVINEW® is a registered trademark of Boehringer Ingelheim Animal Health France, used under license.
NEWCASTLE DISEASE CAN CAUSE INFLAMMATION OF THE EYELIDS OF HUMANS. EYE PROTECTION MUST BE WORN WHEN REHYDRATING AND ADMINISTERING THIS VACCINE. AVOID CONTAMINATING HANDS AND CLOTHING WITH THE VACCINE. HAND WASHING IS RECOMMENDED AFTER EXPOSURE TO THE PRODUCT.