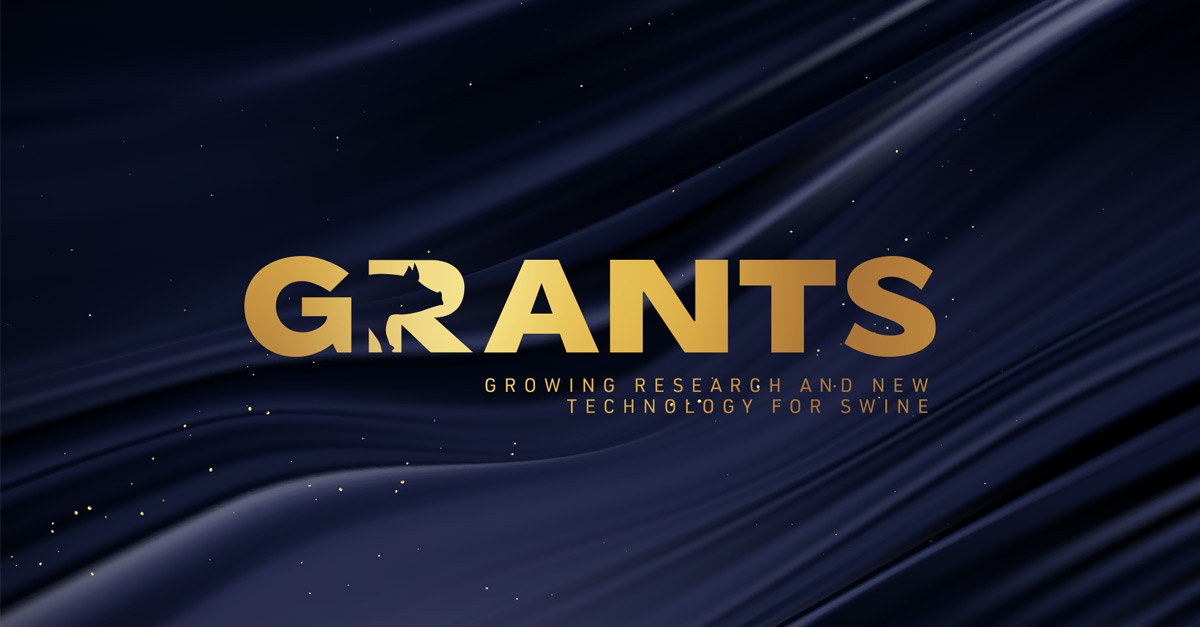 Through the Growing Research and New Technology for Swine (GRANTS) program, sponsored by Boehringer Ingelheim, three research proposals have each been awarded $35,000 in funding. Following the program's expansion from the Awards for Advancing Research in Respiratory Disease (AWARRD) in early 2022, GRANTS funds field-applicable research into swine health and production, from respiratory, reproductive and enteric diseases to new technologies, diagnostics and overall approaches to supporting pig health and performance. 
The Swine Research and Technology Review Board, consisting of five independent swine veterinarians and researchers, reviewed several exceptional proposals before making its final decision. This year's recipients, which were announced at the 2022 Allen D. Leman Swine Conference, are focused on research related to porcine reproductive and respiratory syndrome (PRRS) and Mycoplasma hyopneumoniae (Mhp). 
Boehringer Ingelheim congratulates the following 2022 GRANTS recipients:  
Marianna Kikuti, DVM, MPH, Ph.D., University of Minnesota, St. Paul 

Characterizing within farm PRRSV evolution and clinical re-breaks with the newly emerged L1C 144 variant in positive unstable breeding herds 

Kimberly Crawford, DVM, MS and Ryan Saltzman, DVM, AMVC/VRI, Ames, Iowa 

Efficacy of ivermectin administration to weaned pigs prior to virulent PRRSV 1-4-4 1c challenge 

Rachel J Derscheid, DVM, Ph.D., DACVP, Iowa State University, Ames, Iowa 

Development of viability qPCR assay for Mycoplasma hyopneumoniae to improve gilt acclimation and elimination programs 
"The GRANTS program has always been about advancing knowledge and field-applicable approaches to disease control within the swine industry," said Reid Philips, DVM, Senior Technical Manager for PRRS at Boehringer Ingelheim. "This year, we are funding three research projects that will undoubtedly help the industry battle against new strains of PRRS and continue to help forge a path for Mhp elimination."   
Throughout the last 20 years, across multiple evolutions of this program, Boehringer Ingelheim has provided more than $1.5 million in support of the development of less costly, innovative diagnostic testing and sampling processes; identified more effective biosecurity practices; helped the industry better understand key diseases; and developed risk assessment tools, intervention programs and vaccination strategies.  
"The research projects funded by Boehringer Ingelheim GRANTS program have been instrumental in improving the industry's understanding of swine diseases," said Daryl Olsen, DVM, a Swine Research and Technology Board member and senior partner at AMVC Management Services. "This program will continue to be important for producers' success and profitability as we face new challenges and opportunities in pork production."  
Applications for the 2023 GRANTS program will be open for submission in early 2023. For more information on how the GRANTS program is advancing the swine industry's knowledge of diseases and new technology through game-changing research, tools and more, visit swineresource.com/industry-advancement/grants. 
About the Swine Research and Technology Review Board 
The Swine Research and Technology Review Board, an independent group of swine veterinarians and researchers, selects GRANTS recipients annually. Board members for the 2022 award selection process include: 
Daryl Olsen, DVM, AMVC, Audubon, Iowa 

Montse Torremorell, DVM, PhD, University of Minnesota, St. Paul, Minnesota 

Darin Madson, DVM, PhD, JBS Live Pork, Greeley, Colorado 

William Hollis, DVM, 2022 AASV President-elect, Carthage Veterinary Service, Carthage Ltd., Carthage, Illinois 

Lauren Glowzenski, DVM, 2022 AASV Young Swine Veterinarian of the Year, TriOak Foods, Oakville, Iowa  
About Boehringer Ingelheim Animal Health USA 
Boehringer Ingelheim Animal Health is working on first-in-class innovation for the prediction, prevention, and treatment of diseases in animals. For veterinarians, pet owners, producers, and governments in more than 150 countries, we offer a large and innovative portfolio of products and services to improve the health and well-being of companion animals and livestock. 
As a global leader in the animal health industry and as part of the family-owned Boehringer Ingelheim, we take a long-term perspective. The lives of animals and humans are interconnected in deep and complex ways. We know that when animals are healthy, humans are healthier too. By using the synergies between our Animal Health and Human Pharma businesses and by delivering value through innovation, we enhance the health and well-being of both.  
Boehringer Ingelheim Animal Health has deep roots in the U.S. From a start in St. Joseph, Missouri, more than 100 years ago, it has grown to encompass seven sites. Boehringer Ingelheim Animal Health's portfolio contains widely used and well-respected vaccines, parasite-control products and therapeutics for pets, horses and livestock including NexGard®, Heartgard®, Pyramid® + Presponse®, VAXXITEK®, Ingelvac CircoFLEX® and Prascend®. 
Learn more about Boehringer Ingelheim Animal Health USA at bi-animalhealth.com   
©2022 Boehringer Ingelheim Animal Health USA Inc., Duluth, GA. All Rights Reserved. US-POR-0338-2022