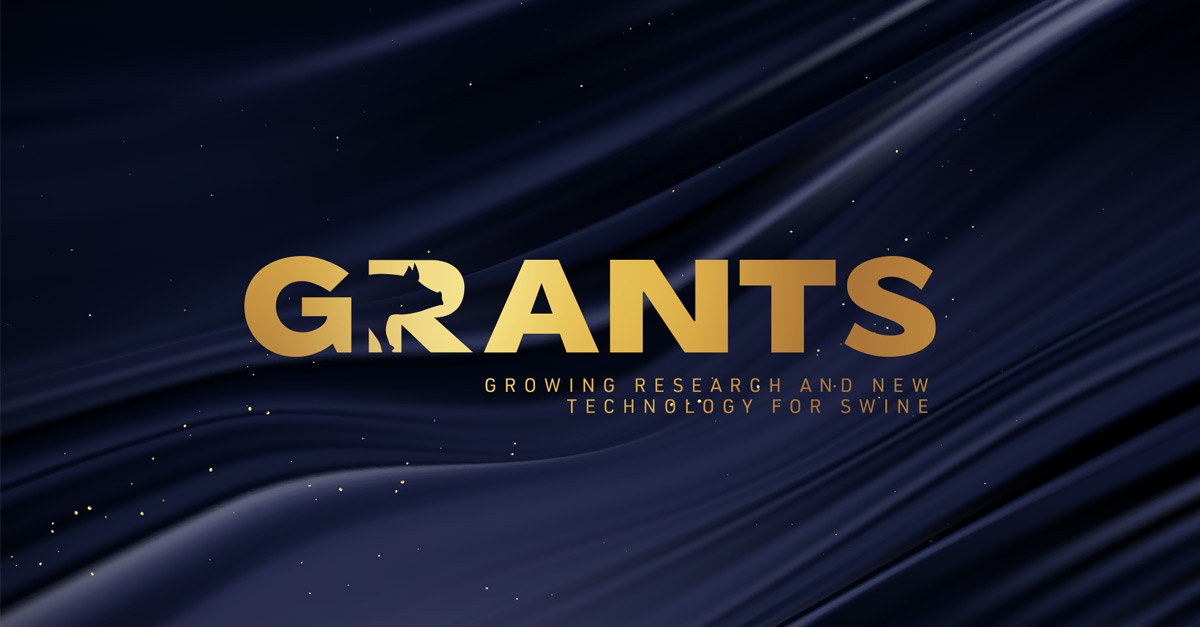 Duluth, Ga. (January 12, 2023) — Practicing veterinarians, researchers and academics may now apply for one of three $35,000 awards for research related to swine health and production through the Growing Research and New Technology for Swine (GRANTS) program, sponsored by Boehringer Ingelheim.  
The GRANTS program funds field-applicable research into swine health and production, from respiratory, reproductive, and enteric diseases to new technologies, diagnostics, and overall approaches to supporting pig health and performance. 
The deadline to apply is Friday, April 14, 2023. Research proposals must have the potential to generate new information or approaches to the control and management of swine diseases or inspire broader industry innovation. Proposals will be judged by the Swine Research and Technology Review Board, which consists of seven independent swine veterinarians and researchers.   
"We owe so much progress in the swine industry to the pioneering research of countless dedicated academics and veterinarians," said Reid Philips, DVM, PRRS Technical Manager at Boehringer Ingelheim U.S. Swine Division. "Through the GRANTS program, we aim to foster more opportunities for breakthrough research findings, helping to solve the multifaceted challenges producers face every day and help swine operations reach their full potential."   
Throughout the last 20 years, across multiple evolutions of this program, Boehringer Ingelheim has provided more than $1.5 million in support of the development of less costly, innovative diagnostic testing and sampling processes; identified more effective biosecurity practices; helped the industry better understand key diseases; and developed risk assessment tools, intervention programs, and vaccination strategies.  
For more information on the GRANTS program, including how to apply, please visit http://www.swineresearchawards.com.
About the Swine Research and Technology Review Board 
The Swine Research and Technology Review Board, an independent group of swine veterinarians and researchers, selects GRANTS recipients annually. Board members for the 2023  award selection process include: 
Daryl Olsen, DVM, AMVC, Audubon, Iowa 

Montse Torremorell, DVM, PhD, University of Minnesota, St. Paul, Minnesota 

Darin Madson, DVM, PhD, JBS Live Pork, Greeley, Colorado 

William Hollis, DVM, Carthage Veterinary Service, Carthage Ltd., Carthage, Illinois 

Emily McDowell, DVM, Veterinarian, Pipestone Veterinary Services

2023 AASV Young Swine Veterinarian of the Year 

2023 AASV President-elect
About Boehringer Ingelheim Animal Health USA 
Boehringer Ingelheim Animal Health is working on first-in-class innovation for the prediction, prevention, and treatment of diseases in animals. For veterinarians, pet owners, producers, and governments in more than 150 countries, we offer a large and innovative portfolio of products and services to improve the health and well-being of companion animals and livestock.  
As a global leader in the animal health industry and as part of the family-owned Boehringer Ingelheim, we take a long-term perspective. The lives of animals and humans are interconnected in deep and complex ways. We know that when animals are healthy, humans are healthier too. By using the synergies between our Animal Health and Human Pharma businesses and by delivering value through innovation, we enhance the health and well-being of both.   
Boehringer Ingelheim Animal Health has deep roots in the U.S. From a start in St. Joseph, Missouri, more than 100 years ago, it has grown to encompass seven sites. Boehringer Ingelheim Animal Health's portfolio contains widely used and well-respected vaccines, parasite-control products and therapeutics for pets, horses and livestock.  
Learn more about Boehringer Ingelheim Animal Health USA at bi-animalhealth.com. 
Media Contacts  
Lauren Housh  
PR Supervisor  
broadhead  
(302) 632-3661
lhoush@broadheadco.com 
Cortney Malter  
Corporate Communications  
Boehringer Ingelheim Animal Health USA Inc.  
(816) 922-9025  
cortney.malter@boehringer-ingelheim.com 
©2023 Boehringer Ingelheim Animal Health USA Inc., Duluth, GA. All Rights Reserved. US-POR-0399-2022