It's March, and the great swine-producing state of Iowa is covered in a blanket of fresh snow, casting a stillness across the landscape. But inside, a room buzzes with activity as a group of young veterinarians come together for their first module in the DVM Swine Academy (DVMSA) program.
They've all turned in their textbooks, graduated from various veterinary schools, and spent some time working and gaining experience in the field, but what unites them is a hunger for more — more knowledge, more experience, more connections. They are curious, driven members of their profession who are always asking the question "What's next?" For the Boehringer Ingelheim U.S. Swine Division, that question was the spark that led to the creation of DVMSA.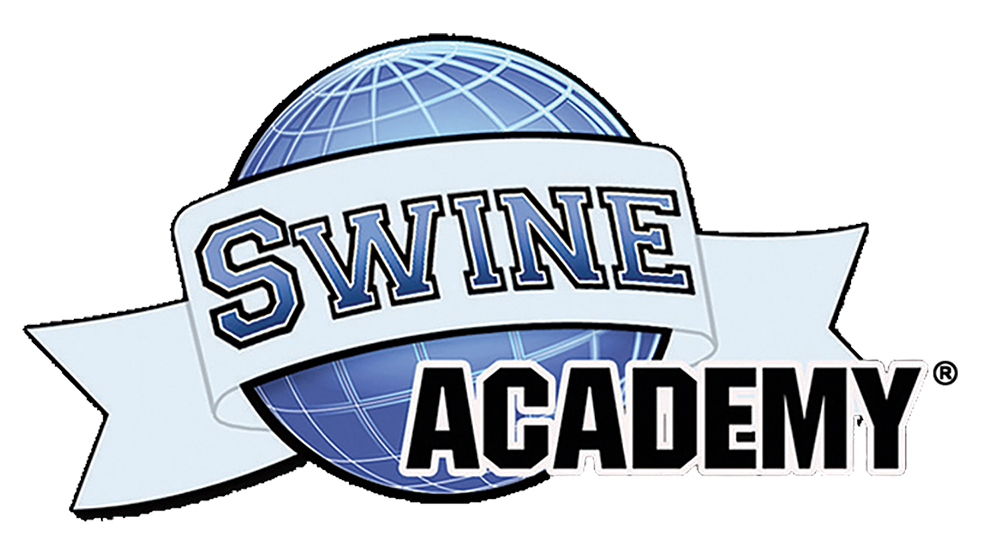 Beyond "bugs and drugs"
The program started about 15 years ago, when Boehringer Ingelheim saw a gap between the core education that veterinary school provides, and the field-applicable, swine-specific knowledge that helps veterinarians succeed and become leaders in production and clinic settings. Designing the program around veterinarians who are one to five years post-graduation, and have a basic level of field experience, allows the participants to get more out of the program than someone fresh out of school.
Over the course of six, two-day modules spread out across two years, participants learn from subject-matter experts representing both academia and production. The curriculum, which is developed by these third-party subject-matter experts, explores a variety of topics designed to push participants' knowledge past the traditional "bugs and drugs" education they receive in school.
"There are a lot of things that we don't learn in veterinary school that are important to our jobs as swine veterinarians," said Jana Morgan, DVM, Boehringer Ingelheim Key Account Veterinarian. Dr. Morgan was a member of the first DVMSA class back in 2009, when she was working for Christensen Farms. Today, she not only still works as a swine veterinarian for Boehringer Ingelheim, she is also the lead coordinator of the DVMSA program.
"There's a lot of focus on diseases in veterinary school, but as practicing swine veterinarians, oftentimes the human element — knowing how to work with and get the most out of your people — is just as important," stressed Dr. Morgan. "Pigs are the easy part of our job, and people can be the harder part. Being able to discuss this with a peer group that understands that piece of the job, and learning how we can better work with people, is an example of a real-world takeaway from DVM Swine Academy that you don't get a lot of in veterinary school."
Forming lasting connections
But beyond continuing education, DVMSA alumni are quick to point to the tightly knit peer group that forms among participants when describing the most important things they took away from the program.
The world of swine health is relatively small, but it's not always easy to form meaningful relationships with others in the industry, particularly those outside of your company or organization. DVMSA gives participants an opportunity to do just that.
"The peer networking was a highlight for me," noted Deb Murray, DVM, New Fashion Pork, who is also a 2009 DVMSA alumna. "It was beneficial in a lot of ways, because we were all at a point in our careers where we wanted to learn more. Having a group to socialize and learn with was valuable. Today, we still keep in touch, and don't hesitate to call each other with questions or to bounce problems and ideas off each other."
Current DVMSA class members echo a similar sentiment. "Coming into a group of similar-age peers is really nice for some of the discussions we have during modules," said Erin Kettelkamp, DVM, Swine Vet Center. "It allows me to connect with people that I didn't go to school with, and I get to hear the different experiences everyone is having."
Participants drive curriculum
The DVMSA curriculum is designed to be dynamic, with modules coming and going or changing focus based on realities in the field, the unique, expert perspectives of the third-party facilitators, and what participants are interested in learning more about. DVMSA participants are encouraged to bring questions and issues they're experiencing to the sessions, so that the whole group can benefit from working through challenges together.
Recently, Dr. Kettelkamp expressed an interest in delving deeper into biostatistics, and worked one-on-one with Dr. Morgan to design a module around the topic.
"We identified the best speaker to come in and talk about biostats that can be applied in the field," Dr. Kettelkamp said. "It's really nice that we truly get to customize it as we go, and make the experience whatever we want it to be."
Sharing insights goes both ways
Daniel Linhares, DVM, MBA, Ph.D., an associate professor at Iowa State University and one of the industry's leading researchers on porcine reproductive and respiratory syndrome (PRRS) virus, facilitates the PRRS module at DVMSA, and said some of the most valuable interactions that take place come in the form of participant discussions.
"As a facilitator, I appreciate that in addition to the traditional sharing of information with the class, there is also a lot of listening among the participants and speakers," Dr. Linhares explained. "It's fun to see the exchanging of experiences and ideas as we go through the sessions."
Dr. Linhares makes a point to ask DVMSA participants, "What is keeping you up at night?" As a facilitator, their answers help him guide the discussion, but as a researcher, they help him identify emerging problems and areas where further research is needed, thereby pushing the industry forward in its approach to swine health.
That momentum generated by DVMSA — for participants, facilitators and the industry at-large — is something Dr. Morgan hopes is only getting started.
"I am hopeful that this program will continue to support young veterinarians, and I look forward to seeing continued support from the industry, as we work to make it the best that we can," she concluded.
All trademarks shown are the property of their respective owner. ©2023 Boehringer Ingelheim Animal Health USA Inc., Duluth, GA. All Rights Reserved. US-POR-0066-2023-V2